Red Bellied Parrot Vs Senegal Parrot Overview
Having a parrot as a pet can be one of the most rewarding relationships of a lifetime. Choosing whether to choose between a Red Bellied parrot vs getting a Senegal parrot can be a challenge to decide on which species to pick. Whether you're new to a potential parrot owning or have prior experience, you may be wondering just how much these two vary in personality and care.
Of course, they're different, both visibly and mentally. Each one of these parrot species requires special care that's specific to each species. While both birds are sure to fill your life with companionship and happiness, one bird may be better suited to you best. So, Red Bellied parrot or Senegal parrot which one is better for you?
Visual Differences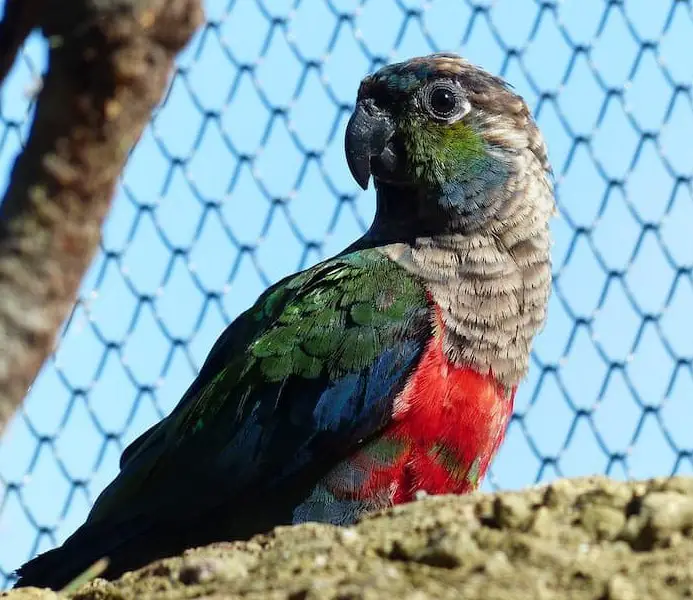 At A Glance
| | |
| --- | --- |
| Red Bellied Parrot | Senegal Parrot |
| Average height (adult): 9 inches | Average height (adult): 9 inches |
| Average weight (adult): 120 g | Average weight (adult): 120 g |
| Lifespan: 15-20 years | Lifespan: 30 years + |
| Exercise: Daily | Exercise: Daily |
| Grooming needs: Moderate | Grooming needs: Moderate |
| Family-friendly: Yes | Family-friendly: Yes |
| Other pet-friendly: Often | Other pet-friendly: Often |
| Trainability: Easily trained | Trainability: Easily trained |
As you can see from the table above these two birds are similar
Red Bellied Parrot Overview
Personality/Character
These little African parrots are quite a lot of fun. They are known for their sociable, friendly, and energetic personality. There's not a lot you could complain about. You just need to make sure that it's getting the freedom to explore, play with their toys, and enjoy a cuddle every now and then. Red Bellied parrot's owners are quickly charmed by their natural tendency to learn new tricks, talk and generally be silly, by this acrobatic little bird. This bird is very popular in the avian community.
Training
This bird is excellent as they can become very good talkers (some try to mimic human voices even before they are weaned!). They can mimic noises, and sounds and can whistle, so they're quite easy to train.
A Red-Bellied parrot can, like most medium-sized parrots, can be very nippy. In order to tame this bird, you'll need to know how to train it and enjoy spending time with you and your friends/family. However, if you don't know how to properly train a Red-Bellied parrot, you could have difficulty even getting it out of its cage.
Health & Care
As Red-Bellied Parrots are such active birds, they need plenty of space in their cage and at least 3 hours a day outside of it, but the longer, the better. They also need to be provided with toys, swings, ladders, and perches to help keep them entertained along with plenty of regular playtime and interaction. They need a cage of at least 24 x 30 x 24 inches, but again, bigger is better, and it should be equipped with everything it needs.
In the wild, Red Bellied parrots live in small flocks and thus need companionship either from their owner or from another bird of the same species. Without this, there's a high chance of it quickly becoming lonely, depressed, and even aggressive.
If you're away from your home frequently, the Red-Bellied parrot isn't the right bird for you.
Breeding
This bird will generally not breed until they are around 3 to 4 years old. To get the best breeding results, they should be housed in a quiet, protected aviary, with a nesting box. A Red Bellied hen usually lays around 4 to 6 eggs. Incubation is carried out a Senegal hen and lasts for about 27 to 28 days. Once the chicks leave the nest after about 45 to 50 days, the male continues to take care of them. The chicks usually become independent at about 12 to 14 weeks.
Cage Size
As Red Bellied parrots are very active, they need a large cage — at least 24 inches by 30 inches by 24 inches — with at least two perches. The cage should be tall and rectangular so the bird can hop and climb around easily.
Cost
Although the cost of the bird can range quite a bit as there are so many things to take into consideration such as local demand. You can expect to pay anywhere from $400 to $600 — not including supplies. 
Suitable for:
Although Red Bellied parrots are great pets, as they're energetic and attentive to their owners, they require regular attention and care by their owners to thrive.
You'll need to check on the parrot in the morning, spending around 30 minutes to one hour feeding it and interacting with it. You'll then need to set aside 30 minutes to an hour later in the day to play with it again.
Pros
Friendly
Easily learns vocalizations
Playful
Small to medium-sized
Cons
Can be nippy at times
A tendency for one-person bonding
Senegal Parrot Overview
Personality/Character
Most well-socialized Senegal's have friendly personalities, but potential owners should know that Senegal's have a tendency to a become "one person" bird and mightn't desire interaction with other members of the family. While this's always the case, it can happen occasionally. It's best to have all the family interacting with the bird to help ensure that this one-person bonding doesn't occur.
Exercise
A Senegal parrot needs to get around an hour a day outside-of-cage time on a play stand or another bird-safe area. The bird should be provided with toys like small foot toys, bells, balls, chewable leather, and wood toys. These items will help to entertain your Senegal while it's away from its enclosure. The Senegal loves to climb and can be acrobatic. These birds appreciate having a variety of swings, ladders, and other toys to explore.
Training
Senegal's are intelligent birds and can be trained to perform tricks and mimic some words. Training is best done with a young parrot, using a clicker and treats as a reward. A lot of patience is important for training this bird.
Health & Care
Senegal's love to chew on soft wood-like blocks, so don't be afraid to buy them larger-sized toys — a Senegal parrot will probably make fast work of it! They also love rope toys, although be sure to watch out for long strands that can catch on the bird's body; therefore, regular trimming of any rope toys is important.
Senegal's aren't considered to be picky eaters and will have a go at all kinds of good, nourishing food, including healthy table foods. Senegal parrots can have a tendency to become a bit overweight, although they're active birds by nature, so this shouldn't become a problem if given enough exercise and a good diet.
Common health issues that are seen in Senegal parrots include:
Routine check-ups with an avian vet is always vital to get ahead of any issues.
Breeding
Senegal Parrots are considered to be easy to breed. In fact, there's a small industry that involves hand-rearing and breeding of Senegal parrots, as well as other parrots for the pet trade. They can begin to breed at the age of 3 – 4 years in captivity. Although some don't breed until they reach the age of 5.
Cage Size
As the bird is a smaller size, a Senegal parrot doesn't require a huge cage. At a minimum, the bird needs a cage with a 20 by 20-inch footprint with 28 inches in height; of course, larger is always preferable.
Cost
For a Senegal parrot, you can expect to spend about $600 – $800, plus the additional cost of supplies.
Suitable for:
These parrots require attention. They need social interaction every day. They also need to spend quality time outside of their cages every day. Senegal parrots, in particular, can become attached to just one person, so they may not appreciate time with other people.
When you first bring your Senegal parrot home, it's recommended to spend a minimum of 3 hours per day with the bird.
After the initial training period, you'll need to spend between 1-3 hours per day with the bird.
Pros
Social, friendly, and appreciate handling
Intelligent, can say a few words
Quieter bird, the noise level should be suitable for close neighbors
Cons
Requires a lot of attention and mental stimulation
Tend to be one-person birds not the greatest family pet
Which Breed Is Right For You?
Ultimately, only you can decide whether the Red Bellied parrot or Senegal parrot is right for you. But take a look at the details above about each bird and ask yourself which would suit best for your home. As these birds are quite similar, it could come down to choosing the individual bird from others that would suit you best rather than getting too hung up on the species.
Keep in mind that these birds have long lifespans and are quite a commitment for anyone. Why not check out some local rescues, too? After all, there's always a parrot who needs a second chance.